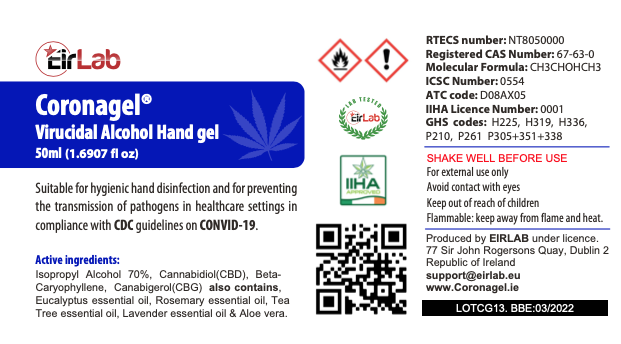 Coronagel® Virucidal Alcohol Hand gel
The worlds first hand hand sanitiser to contain a unique combination of three natural Cannabinoids.
SIZES: 10ml pocket Size, 50ml & 1000ml
Suitable for hygienic hand disinfection and for preventing the transmission of pathogens in healthcare settings in compliance with CDC guidelines on COVID-19.
Active ingredients: Isopropyl Alcohol 70%, Cannabidiol(CBD), Beta- Caryophyllene, Canabigerol(CBG) also contains, Eucalyptus essential oil, Rosemary essential oil, Tea Tree essential oil, Lavender essential oil & Aloe vera.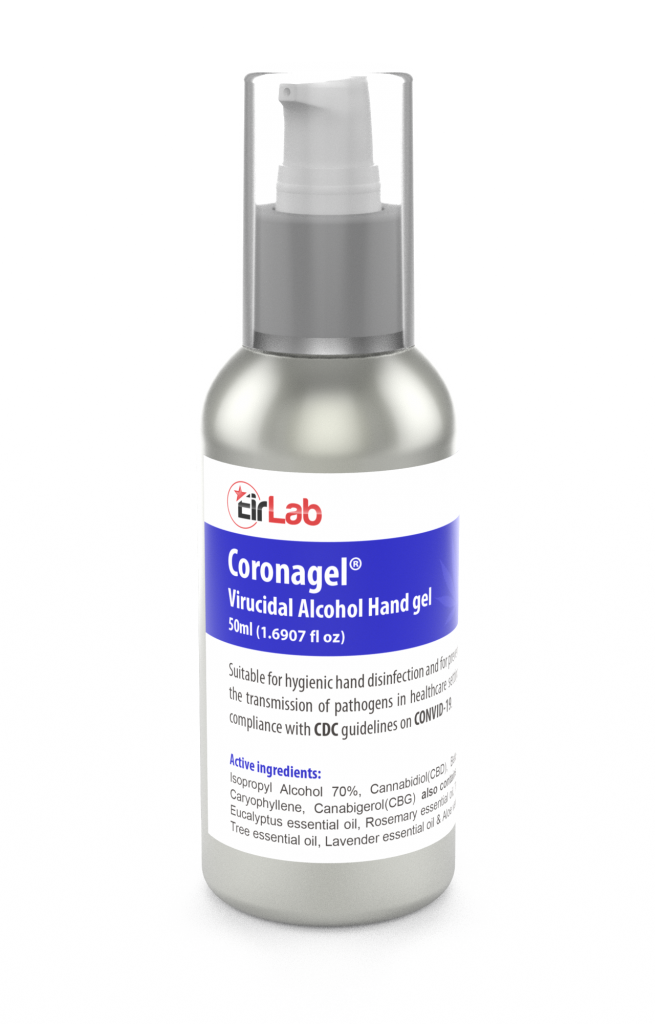 RTECS number: NT8050000
Registered CAS Number: 67-63-0
Molecular Formula: CH3CHOHCH3
CSC Number: 0554
ATC code: D08AX05
IIHA Licence Number: 0001
GHS codes: H225, H319, H336, P210, P261 P305+351+338
SHAKE WELL BEFORE USE
For external use only
Avoid contact with eyes
Keep out of reach of children
Flammable: keep away from flame and heat.
Produced by EIRLAB under licence. 77 Sir John Rogersons Quay, Dublin 2 Republic of Ireland
WEBSITE: www.Coronagel.ie
Available from AUTHORISED DISTRIBUTORS
IRELAND AND EU SALES: Available for retail customers here.